Need a break from work, school, or household chores? You might feel like you're stuck in a rut in your daily grind. If you're yearning for something exciting and different, why not go on a holiday?
Exploring another place will give you a fresh appreciation and perspective on life. Traveling is also a special way to deepen relationships and meet new friends.
Now, where would you wanna go? You can search online for a range of cheap holiday packages near you or somewhere faraway that you may fancy.
Check out the following travel apps and discover where to go with great deals that won't hurt your pocket. This extremely economical holiday destinations will definitely give you a much needed break!
TripAdvisor
With the all-new TripAdvisor, you'll discover helpful travel recommendations and advice from the people you follow and easily save and share ideas to plan and book your perfect getaway. There are millions of traveler reviews and photos, bookable tours and attractions, and recommended restaurants — it's everything you need to know and go better, every time.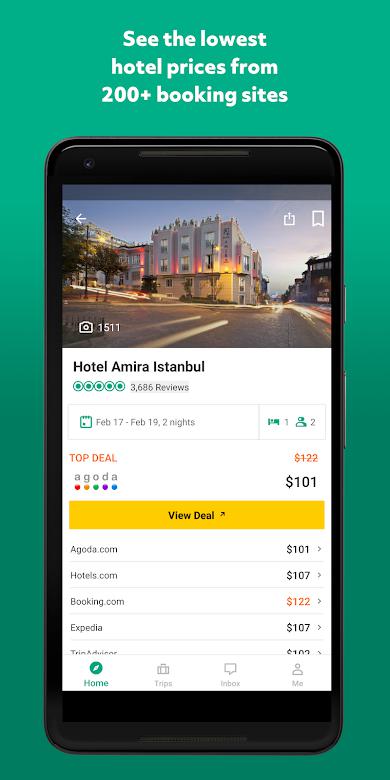 The TripAdvisor mobile app for iOS or Android is free and easy to use:
Discover what's near your current location.
Find great deals and compare airfares.
Search and book amazing tours and attractions.
Find the best hotel for you, including Travelers' Choice award winners.
See the lowest hotel prices from over 200 booking sites.
Explore restaurants and reserve tables online.
Access over 700 million traveler reviews and opinions.
Discover great travel ideas from the videos, trip guides, articles, and reviews in your personal travel feed.
Follow friends and travel influencers to get helpful advice and recommendations.
Visit the TripAdvisor forums and get answers to your specific questions from other travelers.
Save and organise your travel ideas in one place to plan and book easily.
Add your own reviews and photos.
Note: TripAdvisor app is optimized to conserve battery power and only use GPS where necessary. Although continued use of GPS running in the background can dramatically decrease battery life.
TripAdvisor app uses your location to notify you on personalized hotel, attraction and vacation rental recommendations, restaurant, as well as remember the places you visited via Travel Timeline feature. These locations are collected even if the app is in the background.
Airbnb
With Airbnb, you can now start your unforgettable travel experiences. Find travel adventures and new places to go near or far, and access vacation home rentals, places to visit all around the world, and new experiences.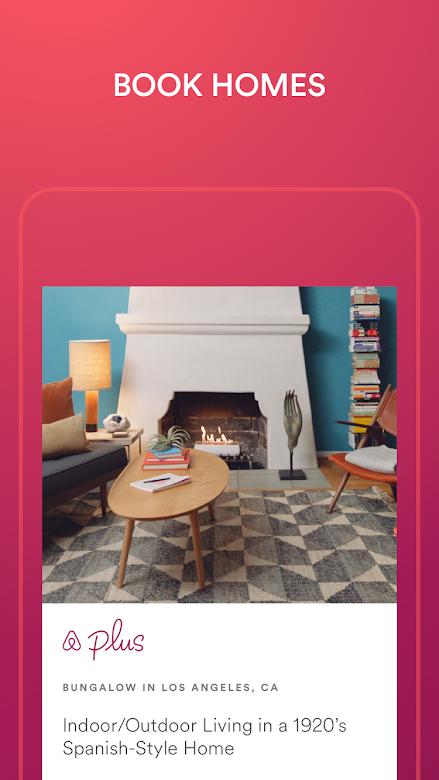 Book everything for your trip, or start earning money as a host. Download the Airbnb app for iOS or Android.
Travel experiences — Go on local experiences led by native experts, whether it's for multiple days or just an afternoon. Explore Seoul's underground music scene, hunt for truffles in a Tuscan forest, or give back to the community with a social impact experience.
Vacation homes — Choose from over 4 million vacation home rentals across 191+ countries. Search by price, neighborhood, amenities, and more.
Popular destinations — Experience the beautiful sights and find local guides for the perfect vacation:

Barcelona – Discover the cities beauty with guided walking tours.
Paris – Find your fill in some of the best culinary tours and museums.
Rio – Explore the birthplace of Samba or Hand Glide over the sights.
For travelers:
Search for last minute travel accommodations or long term rentals.
Save your favorite rental homes, experiences, and places—and invite friends and family to plan the trip with you.
Book vacation home rentals and travel experiences for your next solo journey, family vacation, or business trip.
Add experiences and events to your itinerary.
Message your host and get directions to your home.
For hosts:
Share your extra space or lead experiences that showcase what makes your city great.
Update your listing and calendar availability.
Share what's special about your neighborhood with a host guidebook.
Message guests and manage their reservations.
[Tweet "Cheap Holidays and Where To Find Them"]
Trivago — compare hotels & save
Get savings when you hotel search with Trivago! Discover the great deals, compare hotel prices, and save money on your next holiday or trip.
Find hotels for your holiday or business trip, discover a last minute city break, or a winter sun weekend deal. With more than a million hotels to choose from and hundreds of worldwide booking sites to compare, plan your next trip stress-free!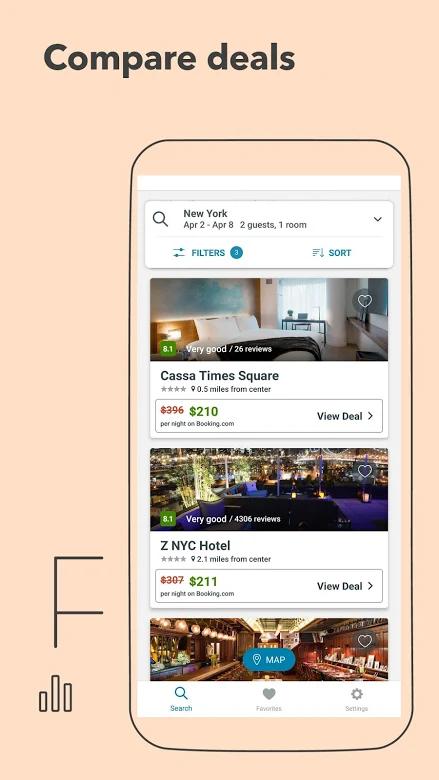 Download the Trivago app for iOS or Android.
Discover travel discounts, deals, and savings from hotels worldwide so you can travel cheaply.
Compare and find hotels, motels, or B&B's from hundreds of bookings sites worldwide including: Expedia, Hotels.com, Holidaycheck, ebookers, AlphaRooms, LateRooms, Travelrepublic, Amoma.com, Booking.com, Priceline, HotelTonight, and more.
Keep your hotel search within budget, search by both location and price, and easily compare.
Hotel search with the Trivago Rating Index® – see the combined online ratings of all available hotel review scores so you feel confident before you book.
Set a trip itinerary for that last minute getaway.
Save money on vacation and travel sites so you can book your ideal hotel at your convenience.
Trivago's massive workforce will always find the great deals on hotel prices to make your next vacation stress-free.
The Guardian lists Trivago among the "10 best money-saving apps."
Lifehacker lists Trivago among the "best price-comparison apps you need to download."
Tech Times calls Trivago one of the "must have apps for frequent travelers."
Skyscanner — book cheap flights, hotels, car hire
Whether you're booking holiday, a city break, or a romantic trip, Skyscanner is the best travel planner for booking cheap flights, hotels, and car hire.
Travel smarter with Skyscanner's slick all-in-one travel app. Instantly search, compare and book cheap flight tickets, hotels, and car hire deals anytime, anywhere for your next trip.
Independent, unbiased and completely free — Skyscanner simply find you the best holiday deals out there in seconds. Book your next trip with the award-winning, simple to use travel planner brought to you by the world's travel search engine. Available in over 30 languages.
Search over 1,200 travel sites at once to instantly get the best deal. Skyscanner includes deals from:
Expedia
Wotif
Virgin Australia
Jetstar
Tigerair
Emirates
Air New Zealand
AirAsia
Scoot
Booking.com
Hotels.com
Accor
Avis
Budget
Enterprise Car Rental and more!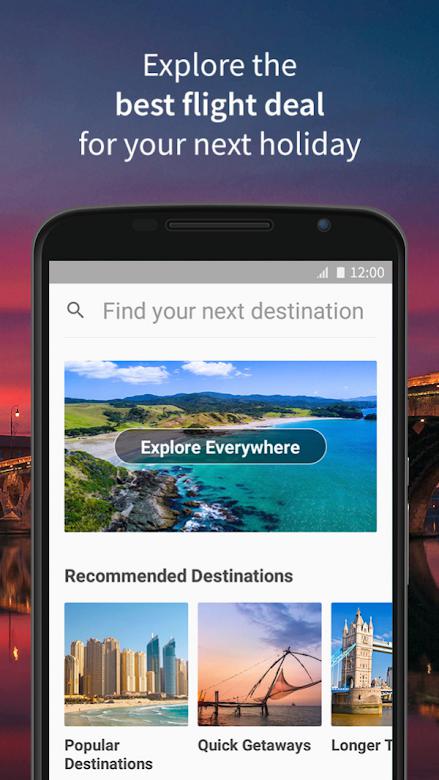 Compare and book them all in the one app. Download the Skyscanner app for iOS or Android.
No booking fees or hidden charges
Get notified of any price changes with Skyscanner Price Alerts push notifications. Never miss a price drop and make sure you get the cheapest flight.
Easily find and compare the cheapest days and months to fly with a colour-coded calendar and chart view.
For holiday inspiration, select 'Everywhere' in the destination box and cheap flight prices to the best destinations around the world will brighten up your day.
Filter results by airline, flight length, stopovers, cabin class, departure and arrival times. Book your perfect trip.
With the new Trips feature, you can keep track of your journeys and all your bookings in the one place. You no longer have to search your old emails to know your flight number or departure time. Find it in two taps of your Skyscanner app. Be kept updated on gate changes and flight updates.
Book your whole holiday with Skyscanner. Compare cheap hotel deals from hundreds of thousands of hotels, resorts, bed and breakfasts, apartments, and hostels. Find rooms near your current location. Even search last minute hotels for tonight. Just looking for inspiration? Search for hotels in all your top destinations and dig out some great hotel deals.
Search the world's car hire deals in seconds. Choose from 30,000 car hire airport or city locations, then filter by vehicle type, auto, or manual and features to find just the car rental you want at just the right price. What's more, the Fair Fuel Policy flag makes sure you don't get ripped off on fuel when you rent a car on holidays.
Skyscanner team is contactable 24/7. Accessible via the Skyscanner Help Centre.
Access recent flight searches from your app home screen and quickly pick up where you left off.
Log in to sync your flight searches and price alerts across all your devices- phone, tablet and desktop.
Earn frequent flyer points when you search for and book cheap flights.

Holiday loans from Cigno
Holiday or travel loans are unsecured loans that allow you to finance your trip using the funds. Typically, you can spend the money on any worthwhile purchase or expense — this includes holidays and any other trips.
Some loan providers offer fast cash loans that are tailored for traveling, even if you have bad credit. You may be able to spread payments of a tour or travel package out over the few months before you leave or you could be given interest-free terms on a travel loan.
Cigno are specialists in facilitating and managing cash advances. With these easy loans online, you can borrow up to $1,000 with a maximum term of 62 days. Extra fees and charges are applicable if you choose to use Cigno's services.
Cigno offers a 24/7 online platform, so apply anywhere, anytime! Even on weekends!
Grab the chance to have a break this travel season and come back relaxed and recharged with new travel anecdotes to tell!